Leandro Martín Abraham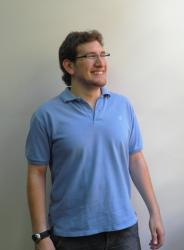 I'm Doctoral Fellow of CONICET since 2013 under the direction of Dr. Raymundo Forradellas. I am enrolled and taking a PhD in Computer Science at Facultad de Ciencias Exactas of Universidad Nacional del Centro de la Provincia de Buenos Aires (Tandil)  under the thesis direction of Dr. Facundo Bromberg and co-direction of Dr . Raymundo Forradellas. The area of ​​my research is related to Computer Vision and Machine Learning. I am also a teaching assistant in some courses of the DHARMA lab.
Academic Bio
In 2007 I start the Engineering in Information Systems and I finalize it in December 2011. In 2011 I contacted the lab and start working on research. In 2012 I  get a CONICET scholarship and in 2013 formally start working on my research topic under this funding.
His academic director is Facundo Bromberg, and his codirector is Raymundo Forradellas.